Current Scholars
This page is under construction! Check back again soon!
Click here for our McNair Scholar Notebook information.
If you would like to ask our program to purchase something for you (transcripts, GRE score reports, etc.) please use this form.
For info on submitting a travel funding request for a conference or grad school visit, please go over here.
Deja Bolton, Sociology and Anthropology
dlb7516@truman.edu
Research Topic: "Daria As a Looking Glass: A Content Analysis of the Social Self in an Animated Television Series"
Faculty Mentor: Dr. Vickie Meyer
---
Johanna Burns, English and Communication
jpb3726@truman.edu
Research Topic: "Truth as Experience: Exploring the Boundaries of Narrative Nonfiction and the Story of Rural Mental Health"
Faculty Mentor: Dr. Monica Barron
---
Jonas Chang, History and Sociology and Anthropology
jlc7313@truman.edu
Research Topic: TBA
Faculty Mentor: Dr. Amber Johnson                                       
---
Marquita Cooper, Psychology
mdc5781@truman.edu
Research Topic: "Personality and Coping Skills in Relation to Academic Success"
Faculty Mentor: Dr. Yuna Ferguson
---
Christina Elem, Business Management and Studio Art 
cse3525@truman.edu
Research Topic: "Paper and Sugar: Addressing Black Female Identity with Kara Walker"
Faculty Mentor: Dr. Sara Orel
---
Patricia Flanagan, Psychology
pnf6731@truman.edu
Research Topic: "Not So Scary After All: Reducing Death Anxiety and Anti-Atheist Prejudice"
Faculty Mentor: Dr. Yuna Ferguson
---
Elias Garcia, Economics and Computer Science
ejg4732@truman.edu
Research Topic: TBA
Faculty Mentor: Dr. David Gillette
---
Eber Gibby, Romance Languages
eng2422@truman.edu
Research Topic: "Family Feuds: Complications in the Categorization of Catalan"
Faculty Mentor: Dr. Matthew Tornatore
---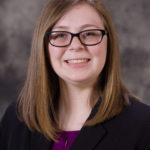 Morgan Grandon, Chemistry
mlg2668@truman.edu
Research Topic: "Electrical and Structural Characterization of Superconducting Ruddlesden-Popper Ruthenate Thin Films"
Faculty Mentor: Dr. Barbara Kramer
---
Ama Idun, Communication Disorders
fai7726@truman.edu
Research Topic: "The Secret to Smooth Talk: Exploring the Link between Pragmatic Language Behavior and Perceived Social Competence"
Faculty Mentor: Dr. Ilene Elmlinger
---
Becca Light, Justice Systems
rjl5388@truman.edu
Research Topic: "Misperceptions of Crime and Immigration: Does Education Make a Difference?"
Faculty Mentor: Dr. Arlen Egley
---
Thomas Lona, Biology
twl4581@truman.edu
Research Topic: "Analysis of Earthworm Abundance in Relation to Soil Conditions"
Faculty Mentor: Dr. Ben Wodika
---
Sydney Matheis, English
sm6616@truman.edu
Research Topic: "Mining in Northeast Missouri: A Digital History"
Faculty Mentor: Dr. Heather Cianciola
---
Monique Maxwell, Psychology
mmm8528@truman.edu
Research Topic: "Developing an Understanding of Emotional Support Animals"
Faculty Mentor: Dr. Sherri Palmer
---
Maha Mohamed, Health Science
mom8574@truman.edu
Research Topic: "Health Disparities Between Rural and Urban Populations in Kigali, Rwanda"
Faculty Mentor: Dr. Janice Clark
---
Jay Nguyen, Political Science
jnn7275@truman.edu
Research Topic: "Sub-Saharan Africa, Colonization, and Democracy"
Faculty Mentor: Dr. John Quinn
---
Julia Nguyen, Biology
jnn3285@truman.edu
Research Topic: "Determining the Effect of Temperature Increase and Fixed Resources on Energy Allocation into Growth on Poecilia Latipinna"
Faculty Mentor: Dr. Stephen Hudman
---
Charlie Ortmann, Physics
ceo2437@truman.edu
Research Topic: "The O'Connell Effect in Three Eclipsing Binaries"
Faculty Mentor: Dr. Vayujeet Gokhale
---
Weston Reidt, Biology
wmr8474@truman.edu
Research Topic: "Determining Genetic Interactions Between Transcription Factor Genes and their Biological Role with C. Elegans using RNAi"
Faculty Mentor: Dr. Stephanie Maiden
---
Angela Sas, Health Science
als7533@truman.edu
Research Topic: "Motivators, Barriers, and Facilitators to Weight Loss and Behavior Change Among Limited English Proficiency Latino Adults in Baltimore City: A Qualitative Analysis"
Faculty Mentor: Dr. Roberta Donahue
---
David Smithson, Creative Writing
dls6214@truman.edu
Research Topic: "Frog Legs"
Faculty Mentor: Dr. Joseph Benevento
---
Nala Turner, Studio Art and Psychology
nct2315@truman.edu
Research Topic: "Do Expressive Activities Improve Mood and Subjective Well-Being?"
Faculty Mentor: Dr. Jeffrey Vittengl
---
Ari Vera, Chemistry
sv7747@truman.edu
Research Topic: "A Theoretical and Chemical Investigation into the 'Dark' Pathway to Sunlight-Induced DNA Damage that Causes Melanoma"
Faculty Mentor: Dr. Barbara Kramer
---
Anna Wang, Health Science
aw5411@truman.edu
Research Topic: "The True Cost of Labor: An Analysis of Maternal Mortality in the Mid-Twentieth Century United States"
Faculty Mentor: Dr. Jeff Lingwall
---
Jessie Wooldridge, English
jmw1635@truman.edu
Research Topic: "How Cultural Capital Presents Itself among First Generation College Students"
Faculty Mentor: Dr. Summer Pennell